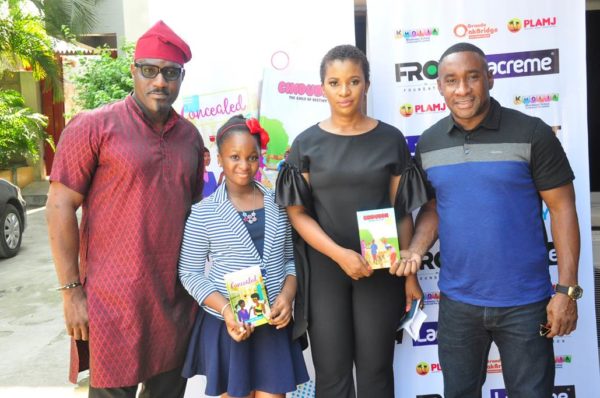 kid Author; Munachi Mbonu publishes two books
The books Concealed and Chidubem: A child of destiny was launched on the 15th of July, written by the 11 year old Munachi Mbonu, a primary six graduate of  the Grande Oakbridge Montessori School, Lekki where she graduated as the head girl of her school.
Munachi when interviewed said Concealed, centered on a group of young friends in school learning what is valuable and love, was inspired by TV drama series, Friends; while Chidubem, which features a boy adapting to city life after relocating from the village, was influenced by her interactions with her cousins who had similar experience.
When interviewed by TVC Nigerian, Munachi took us to her room where she had lots of  awards and medals already won during the period of her primary school. Her teachers, when interviewed confirmed that she is that special and quiet kid in class that acts maturely and her writing sells her out.
During interview, with her mother, the under 30 year old Ms Mbonu, she was asked how Munachi began writing.
"She's been writing from seven. I got her first laptop at five.  So she would sketch some things and write about them. At age seven, she started writing.  During the holidays I buy a lot of books and tell her to do a book review.  She has written about five or six books.
When I read Chidu‍bem, it was really funny.  I was laughing.  I told her that older people needed to read her books, not just her cousins.  She was scared at first but I encouraged her.  We met with an editor who saw the manuscript and she was impressed,"
I will advise parents to invest in their children first before investing for their children. Expose a child to multiple activities and through that you know what the child likes," 
Munachi is the First child of her mother and the only girl but she is not the only child, she has two younger brother too. All children being trained by a single mom
When asked to give a speech at her book launch Munachi became emotional and broke into tears when she gave credits to her mum.
Although she writes, Munachi said she would like to become a medical doctor, and she replays that she can cope with it, she says she would work during the day and write at night. She also introduced herself as an entrepreneur when she was interviewed at home.
 Munachi revealed that she is currently working on her third book, although she doesn't disclose the name or what it is about, she says when she writes, she usually doesn't know how it ends so she goes with the flow.
"This is my laptop, and this is the story I am working on, but I usually don't know how it ends so I just go with the flow"
While parents and wards alike are encouraged to follow their dream, Nigeria and all those who launched and sponsored the book Concealed and Chidubem ; a child of destiny encourages the young author to do more.